Last year consumers bought more than $14B worth of products. Naturally, a sizable amount of this cash was spent on candy and food, but if you're thinking that your business can't benefit from Easter you're wrong.
Did you know that people spent more on clothing than Easter candies in 2016? The average person spent more than $60 on clothing and less than $30 on Easter candy.
Easter Gifts, which includes everything from toy bunnies to gift cards and handmade jewelry, came in a solid second-place for Easter spending last year at $40 per person.
Let's get to the point: your business isn't going to reach its full potential if you don't have the right online presence. That's right, even if you have an e-commerce website now, you may not be reaping the full benefits.
Take a look at the Infographic we've made below for you. Once you're done reading through that, we'll speak about some of the information in there and how you could still benefit by having an e-commerce website.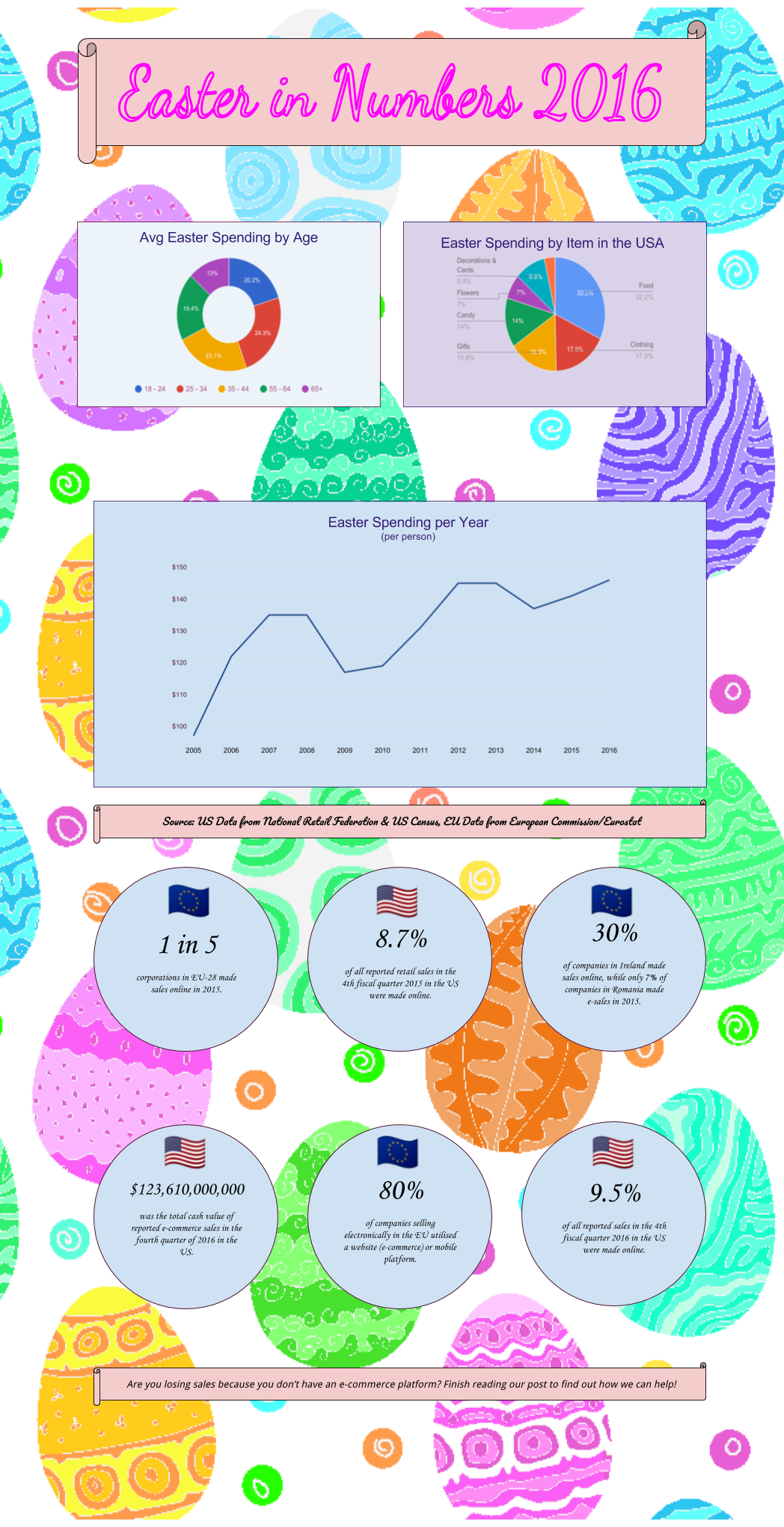 By now, you've learned that the European Union (EU) sees 20% of all companies making e-commerce sales, and as every year passes more and more consumers are buying online.
In the 4th fiscal quarter of 2016, the United States saw a rise of 0.8% alone, with over $123B in online sales. Data released by the Census Bureau in the United States suggests that the fourth fiscal quarter is the highest spending quarter online.
What happens in the fourth fiscal quarter? People prepare for the holidays. Halloween, Thanksgiving, Christmas, New Years.
Story time... My friend's grandmother used to buy everything online, and by everything I really do mean everything. She used to prepare for all of the holidays around Halloween each year. By all of the holidays, I really mean all of them.
She would gather up the funds throughout the year, make a list and check it twice, and then she'd buy for everything. Halloween, Thanksgiving, Christmas, New Years, birthdays, St. Patrick's Day, Easter, you name it, she had a gift for it. She would even buy extra gifts, just incase she forgot one or two people throughout the year, or met someone new.
The world is comprised of seven billion people (and counting), and I really doubt she was the only person to do this kind of shopping. Is your store ready for that? Do you want to cater to Grandma as well?
I've given you all the boring facts, but now it's up to you to apply this to your business. There's a lot of money in the US alone being spent entirely on online sales and e-commerce. Over $123B (that's $123,000,000,000) per fiscal quarter, and that number seems to go up every year.
If you have an e-commerce shop already, stop and think for a minute whether or not you're targeting your audience, making it super convenient for your Grandmas and Grandpas to shop, and making it even easier for the young people to shop.
Young people (aged 25 - 34), according to the National Retail Federation, tend to buy more gifts, clothing, and candies/foods during the holidays than any other age group.
According to recent studies done by Google and other search engines, nearly 60% of all search queries are performed on a mobile device. That means if it's not super convenient for me to shop on your site with my mobile phone, I'm probably not shopping.
Easter's over, but like the title suggests, Christmas is right around the corner. Sometimes when we are so focused on our businesses, we lose track of what really matters: user experience, and making sure our clients are happy. Have you?
Reach out to us for a free consultation. Just send us a URL to your website, and a brief message about what you need. We'll go through your website, check out how your User Interface and User Experience (UI/UX) are performing, and see where you could do better.
If you don't have an e-commerce website, please tell us when you reach out. And hey, if you'd rather not, that's cool too.
Happy Easter & Much Love,
Create Azure Family